During the Portfolio Redefined event last week, we heard from a lot of teachers that information on writing for college admissions and examples of admissions essays would be helpful. Here are some tips, requirement examples, guidelines for getting started, and essay examples.
Any feedback, comments and requests are welcome!
WRITING FOR YOUR PORTFOLIOGreat advice from Carolina Wheat, Director of Admissions for Parsons
Statement/Essay
1. Represent yourself through text
2. Use words you are comfortable using
3. Discuss your process
4. Please do not begin the essay "I always knew I wanted to be an artist"
ARTIST STATEMENT REQUIREMENT EXAMPLES
Parsons
What do you make, how do you make it, and why do you make? Ultimately, where do you visualize your creative abilities and academic study to take you after your education here at Parsons? (Maximum 500 words.)
SVA
In 500 words or less, discuss your reasons for pursuing undergraduate study in the visual arts. Feel free to include any information about yourself, as well as your goals and interests that may not be immediately apparent from the review of your transcripts or portfolio.
Pratt
Describe when and how you became interested in art, design, writing, architecture, or the particular major to which you are applying. Describe how this interest has manifested itself in your daily life.
FIT
What makes you a perfect candidate for FIT? Why are you interested in the major you are applying to? The essay is also your chance to tell us more about your experiences, activities and accomplishments.
 Questions to Get you Started
Begin the process of writing your essay for college admissions by answering these questions for yourself in your sketchbook.  
Tell the truth & the more you write for each question the better.
– Why you do like to make art?
– What materials, themes and CONCEPTS do you use? Why?
– What do you see in your work / What do other people see? (ask friends and family)
– What inspires you?
– What are your goals and aspirations as an artist?
– What schools are you interested in and why?
– What does your work actually look like? Describe one work as an example!
– What do you want to do in the future?
When you've answered these questions try to organized them into an outline, or 3 separate paragraphs. Once you've organized start to use your answers to make structured sentences. Answering the questions is an exercise to get you writing about your art. Your final essay does not have to include any of your answers verbatim, or it can. 
Make sure that someone else looks over your essay. It is easy to miss mistakes when it's your own writing. And feedback on how you can improve is always great. 
ARTIST STATEMENT EXAMPLES by accepted students
ARTIST STATEMENT EXAMPLE for Parsons by Tiffany 
To be able to excavate the bones of ideas that link humanity in one common whole – it is a beautiful, life-long driven process.
I am keen to my surroundings, expecting beauty in the most trivial aspects of daily life. As people head toward their offices, open the bus terminal doors for the people behind them, and dart across the street as the sign signals an alarming red- it is a gift to be able to observe certain gestures expressed by strangers and acquaintances. I will often take the opportunity to absorb the details of the lives of those other than myself. I search there for new inspiration – it is a search to synchronize the heart rhythms of strangers through my artwork.
With the start of an art piece, I begin by wondering how to capture my life and thoughts in a way that creates a private bond with each onlooker. The ultimate purpose of my artwork is for the viewer to reflect upon their lives and remember emotions they have experienced. Through the work it becomes possible to comprehend the similarities we share as human beings.
One aspect of my work that is effective in evoking a sense of commonality is childhood nostalgia. My unique childhood has formed my character as I was intimately exposed to different cultures – South Korea, China, and the United States. As I resided for several years in each of the three countries, I accumulated knowledge through learning the diverse languages, colors, food, clothing, and mannerisms of these countries. Seeing the differences opened my eyes and altered the approaches I take toward exploring the unfamiliar.
I have developed ideas for a few of my favorite art pieces from my most valued childhood memories, with the hopes to share these fortunate experiences – the time I tied a rope around my pet baby chick's leg and explored the playground, and the exciting elevator ride with my brother with stacks of soda in our hands. Handcrafted with sculpey and painted with acrylic paint, the sculptures of those memories evoke a sense of nostalgia and excitement with their vibrant colors.
The seemingly simple vibrancy of my work is balanced with structural stability. One example is the sculptural piece titled "Thinking Outside of the Box" which is intended to be ironic because the brain-shaped structure is built with wired boxes. I placed a light bulb in the center encasing it in a mirror-walled box to depict the flash of a new idea as its light fails to pass beyond it's walls. This piece portrays the human mind as it fails to improve on an idea because of other shortsighted and entrapping thoughts. Such fallacy is a human characteristic that is universally shared.
My search for similarities among humanity has become increasingly simple as my empathy and compassion has grown. As I learn an individual's story, I aspire to serve as a medium, expressing certain qualities with my creative work. Each person reflects back to me humanity's common ground.
ARTIST STATEMENT EXAMPLE for SVA by Eleanor 
Many people have told me that I have a restless personality, which I believe to be true. I constantly seek experiences that will make me feel alive. Maybe this why I do the things that I do. I love hiking and traveling, especially to places that seem untouched by man. Most of my inspiration comes from that moment when I absorb the spectrum of beauty in front of me through my eyes. I process the thoughts that subsequently run through my head, and when it is released through every pore of my body, I recreate the feelings through my art.
Even asleep, my thoughts are seeking and restless in the sense that when I have fallen into a deep slumber, and I am no longer physically mobile, my thoughts turn to dreams.  When I am asleep my dreams are either rather disturbing or mysterious and serene. It seems that most people forget their dreams when they awake, but I remember my vivid dreams clearly, as if they were memories from waking life. I am not afraid to show, through my illustrations, what my dreams reveal to me; what I desire, what offends me and scares me. By using my dreams as inspiration I feel unlimited in expressing myself.
I never questioned that I would pursue a future in the field of Illustration because when I am drawing and painting I feel the most comfort. Whether I am reading a book, hiking, taking a picture, or even listening to music, it always leads me into the depths of my mind, and I know that the thoughts will eventually translate into an illustration. I have discovered that art has no boundaries, and that there is no better means to capture the imagery that I create in my head.
Although my ideas come to me most often when I am by myself, I am a very social person, and I am inspired by other creative people. I need to be constantly surrounded by individuals who will fuel this. There is no better way to ensure that I will be, than to attend an art school full of diverse yet creative students.
The School of Visual Arts is a school that has many qualities that suit me. The faculty at SVA is impressive, and the effort that SVA makes to look for artistic minds, by visiting places such as Ashcan Studio, really caught my attention. I am also impressed by SVA student work. During a SVA admissions counselor's presentation, I was able to see examples of projects by SVA students and they were all inspiring.  Some of the works held me in a trance. I was in awe and often had the chills on my skin when looking at some of the work. If the students at SVA are making such outstanding work, then I know that the school has a lot to offer me.
ARTIST STATEMENT EXAMPLE  by Helena 
I feel that have two identities. Outside of my home I live under the name Helena Juhee Kim, while at home I am my parents' rebellious teenage daughter, Juhee Kim. Throughout my life I have struggled to define my identity. I have had difficulty figuring myself out, who I represent in this society. However, since my entrance in to high school I have realized that my whole life revolves around art. It has taken me back to the very beginning of my life. I recall that it was art that made me feel happy and complete as a child. It was what I loved.
I believe that all artwork has a purpose. It tells a story. When you see an artwork it is as if it's trying to whisper the artists story to you. Art does not have to be a visual image. To me, art can be a story. I often come up with new creative ideas through telling stories with words. Words are a very powerful tool to express messages and fantasies. For me, however, words are not enough—if there is a story then there must be an image to portray its meanings. I want visually illustrate it. Images can be mysterious in ways that words are not. Art reveals the artist, the type of person he or she is—not only with the way an artist uses color, their line making and style, but also through the core concept the artist focuses on. It interests me that a certain topic or story can be so essential to a person that they had to make it into art.
My junior year in high school year I made the decision to pursue illustration as a career. Attending Fiorello H. LaGuardia High School in New York definitely played a role in finding my interest among the many majors of art. As a junior I decided to take the classes Illustration and Mural. It was my toughest year, as I had personal issues in addition to academic stresses. Art helped me get through these hardships. It pulled me out from my distress. Moreover, it made me love and understand 'art' better. In the end, it was art that helped me grow as a person. It was then I understood what it truly meant to be an artist.
Through my many struggle in life, art is what saves me. In the end it all comes down to what I truly want to pursue in life—in the future, what I see myself doing and love being involved in. Art makes me realize that there is a purpose for everyone. And I believe that by going to an art college my love of art will flourish even more, as I get closer to my dream and start anew to become even a better artist.
Posted on Posted in Admissions EssaysTagged #art, #art school admissions, #art school nyc, #ashcan studio of art, #college essay, #essay, #portfolio redefined, #the joan mitchell foundation, #the museum of art and design, admissions essay, art portfolio, art school, parsons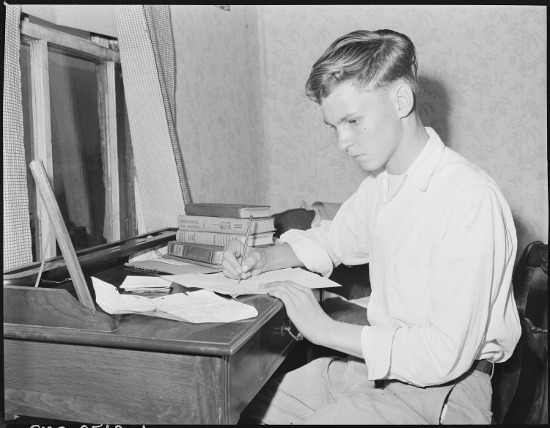 Editor's note: This is a guest article from Tony Budding.
Writing the personal statement for your college applications can be daunting. The questions are usually open-ended with many possible approaches. And, it could end up making the difference between acceptance and rejection.
In this article, I suggest methods for identifying the topic and writing the statement. As a former English teacher, I can tell you that reading numerous mediocre essays in a row is mind-numbing. College admissions officials have a lot of essays to read. The unexpectedly vibrant, authentic, one-of-a-kind personal statement shatters their monotony and immediately distinguishes the application. This can be yours.
First, some logic. Good writing comes from good thinking. In the case of a personal essay, good thinking comes from self-knowledge. Self-knowledge is arguably the greatest asset any man can possess. Therefore, treat the personal statement as a boon.
I believe in progress through extreme effort. You should endeavor to out-work your peers in the acquisition of self-knowledge. There are no shortcuts in this, though there are dead ends. Think of this article as a roadmap of worthy avenues and unproductive alleys.
There are two distinct phases: acquiring self-knowledge and crafting the essay. The former is intrinsically valuable, while the latter is goal oriented. That goal? To have the admissions officer finish reading your essay convinced you belong at their school.
Colleges seek students that support their charter. Ideally, these students understand their passions, challenges, and ambitions, have developed a good work ethic, and are driven by internal motivations (not grades). Such students become lifelong learners. Colleges also aim for diversity of gender, race, geography, academics, athleticism, artistic ability, and background experiences.
That's the ideal. Your goal is to tap into your values, identify what motivates and inspires you, and demonstrate how this has fueled your pursuit of excellence in some way. The essay is short — typically 650 words or less — so it has to be narrowly focused. You will use this to your advantage by featuring only the parts of you that best convey your ideal inner student.
What Not to Do
First, let's look at what not to do.
Don't approach this like a typical academic essay. You are not trying to prove a point, instruct your reader, or explain a thesis. The Authority, the Educator, and the Pontificator are personas you should shun at all costs. You are not an expert in anything; you're applying to college to learn, and the only thing worse than a pontificating professor is a pontificating student
Don't have it all figured out. Don't assume you know exactly what you want to do with your life. And don't predict the future.
Don't describe your achievements. Don't write about something. Don't summarize. And don't try to be funny.
Never use absolutes (did you see what I just did there?).
Don't try to sound like a college student. Don't try to sound like anybody. Don't worry if they'll like you. Don't lie. And don't tell the whole truth (it wouldn't fit anyway).
You Are the Subject
That's a lot of "don'ts." What's left to write about? You.
You are the only you in the world. No one else lives inside your head, thinks exactly like you, feels just what you do, sees the world the same way, or craves the same outcomes.
You are your subject. Not the whole you. Your core values. The motivated you. The inspired you.
This is what colleges are looking for. Every one of the Common Application Essay Prompts asks for some kind of personal meaning, motivation, and/or influence. They want to get to know this you as much as possible.
Self-Inquiry
Writing such an essay begins with self-knowledge, which comes from self-inquiry. Humans are a combination of common and unique elements. Through inquiry, you embark on an inner journey to identify and separate these elements. This profound effort benefits more than just the writing process. Done properly, it forms the bedrock of character upon which you build the foundation of your life.
Self-inquiry is basically asking the question "Who am I?" in as many ways as possible. There are countless ways to approach it. The following questions are examples, oriented toward young men with less experience navigating the inner realms. Start with these questions (or make up your own), but follow each answer with further inquiry. Explore your broad inner landscape with honest reflection.
1. What do you do with your discretionary time and why?
Discretionary activities often reveal inner values. When the homework is done, chores completed, and practices over, what do you do? On a lazy summer day, how do you fill the time? A similar question is, "What would you do if no one would ever find out, and why?"
If you don't have a lot of discretionary time, switch the inquiry toward your favorite activities. In any case, ask yourself what is it about these activities that appeals to you? Why? Then keep asking why to each answer.
Why is the drill bit that digs the well of understanding. Use it early and often.
Here's an example. Say you like to shoot hoops in your driveway. Why? Because it's fun. Why? Well, because it feels good to make a shot. Why? Because it means I'm getting better. Why does that matter? I don't like losing. Why? I want to win. Why? Cuz if you ain't first, you're last! What's wrong with being last? Losers don't get good jobs or have good lives.
This process uncovered a link between the fun of driveway basketball and what it takes to have a good life. My experience is that all genuine inquiries reveal some alignment between trivial choices and underlying values. It's all interconnected, so almost any surface activity can lead to real insight.
At this point, just keep a list of your insights. They will be used later.
2. What injustices in the world are you willing to help fix?
The world is not fair. It never has been and it never will be. Some types of injustice hit your radar stronger than others. Which ones, and why? The question, though, goes one step further. Which ones are you willing to help fix?
This could manifest in a variety of ways. You might volunteer if the issue hits close to home, like child care or soup kitchens. You might research and debate if the issue is political like income disparity or immigration. Or you might decide on a career choice like medical research or international banking if product or service innovations address the need.
The key point is values-based action. It's one thing to lament corruption in politics. It's another to do something about it. When your interest and passions are strong enough to motivate action, you know you're on to something significant.
3. As you think about your life to this point, what events stick out as the most meaningful and why?
What are the strongest memories that you keep coming back to? Which of your past experiences do you reflect on when making decisions in the present? What was it about these experiences that affected you so much? Again ask why?
Sometimes the strongest memories apply to a seemingly insignificant event. Don't let this deceive you. There is a reason this memory sticks. Use it. Dig in, and keep asking why.
4. How do you define a quality life, and what is required to have it?
While this question can be a stretch for teenagers, it's worth exploring. Think about your friends and family (both immediate and distant) — who seems the happiest and what do they have in their lives? Include things like careers, family, social activities, vacations, homes, and neighborhoods. Which combinations most appeal to you?
The reason this inquiry is so valuable is that all of life requires compromises. You can't have it all. For example, an important, high pressure job cuts into relaxation and family time.
Remember the goal of these questions is self-knowledge. You're not trying to plan out your life, but rather to identify your values. Which aspects pull you? Play the either/or game. A lot of money or a lot of time? A life of travel or a life with kids? Fancy cars or tons of friends? These distinctions are artificial but revealing. And ask "Why?" as often as you can.
5. No man is an island. Who has made the most impact on you and why?
No matter who you are, there are people around you working hard to help you succeed. Parents, relatives, teachers, friends, even strangers. What do they do that supports you? Why do they do it? How does that support affect you both directly and indirectly?
By recognizing their efforts, you can see not just what matters to you, but also how interconnected we are as a species. Since we're all connected, you also have an impact on those around you. What do you want that impact to be? What do you want others saying about you, what you did for them, and the kind of person you are?
Now push that forward. If that's the impact you want to have, what skills and experiences do you require to become that person? How well do the colleges you're applying to fit your needs? It's possible this inquiry could change where you apply.
Writing the Essay
When you've completed these inquiries, you should be able to identify common themes. These are likely the best topics to write about.
Now read the essay prompts carefully. You often have a choice. Any of them can work, so start with the one that seems the easiest (you may decide later that it doesn't work). Create a rough outline of how you want to answer. Frame your subject in the context of where you are now, oriented toward how your college education will further you along this path. This gives the college insight into both who you are and why you'll make a good student.
An aside: If you have no compelling answers for these inquiries, I suggest you postpone your college plans until you do. College is a huge investment of time and usually money. If you have no compelling reason to be there, wait. I wish I had. I wasted my college years even though I graduated in four years with good grades because I was not pursuing my own education. It was not until five years after graduating that I began to study for myself. Over the past 20 years, I've learned enough for the equivalent of several degrees, but will never regain what my college life could have been.
As you structure your thoughts, identify specific moments of greatest challenge, stress, anxiety, and/or tension. Articulate how these experiences affected you at the time, and how they influence and motivate you now. These are more revealing of your character than great achievements. Plus, your achievements are featured in other parts of your application.